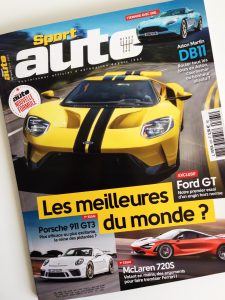 フランスのスポーツカー雑誌 「Sport Auto」の今月号に「A portrait of David Bowie」の4ページにわたる特集記事を書いていただきました。
車の形をした肖像、車ではない車。扱いにくかったかも知れませんが本当に素敵な記事にしていただきました。感謝。
プロジェクトもゆっくり着実に進行中です。
フルサイズモデルのスポンサーも引き続き探しています。
ご興味のある方は是非ご連絡を!
---
4 pages of a great article on our "A portrait of David Bowie" project in the latest issue of "Sport Auto"!
Very appreciated for a beautiful article again. As it's a portrait but not a car, it could be difficult to fit in in a sport car magazine but thank for the great article.
As you can see, the project is progressed!
Slowly and Certainly.
 And we are still seeking the sponsor for the full scale model! If you are interested, let us know!