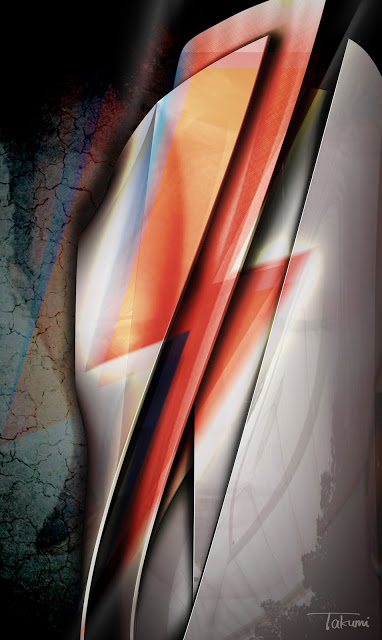 After I achieved my first dream of becoming a car designer, I went on to design for various car manufacturers over 15 years.
Then, at the end of 2015, I decided to start my own company, to concentrate on my life's work of creating Hypercars, and new projects for my clients.
The very first thing I started working on was a David Bowie car – more than 20 years after the initial decision, I finally started to work on my second dream.
It was after Christmas 2015 that one of most exciting and interesting sketch sessions for me started. But this blissful time was curtailed 2 weeks later by the very sad news of David's passing.
I said to myself, this was now an impossible dream to achieve.
But after that period of profound sorrow, I decided to create a portrait of him by using my medium "CAR".
"It's not possible to this with him but always possible to do it for him as a tribute and token of appreciation."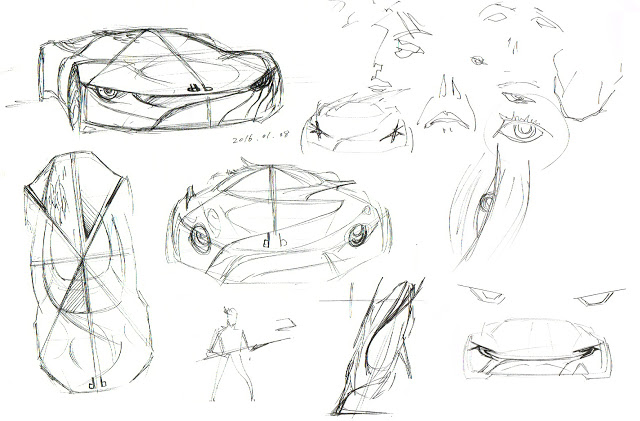 Sketches from 8 Jan 2016, his birthday and two days before his death
/ 彼がこの世を去る2日前のスケッチ。彼の誕生日。
クルマのデザイナーになるという最初の夢を叶えて15年ほど経った2015年の師走、自分の信じる夢、思うところのある僕は、会社に独立の意向を伝え、そして快く承諾していただいた。そしてその後すぐにアフターファイブプロジェクトとして取りかかったのが、デビット・ボウイ・カープロジェクトだった。ようやくこのプロジェクトに取りかかれる、と喜んだのもつかの間、2016年1月10日、2週間ほどの至福のデザインセッションはあっけなく幕を閉じた。
叶えられない夢もあるのだ、と思った。
失意の中2週間ほど経ったある日、「生きている彼とのコラボは不可能だけど彼へのオマージュを送ることは今でも可能だ」と、なぜか突然そう思った。
自分はクルマという媒体で彼の肖像を造ろう。そう決意した。
3D CAD modelling : Cyrille Ancely, CGI(base of rendering) : Alexandre Larnac